The best personalized gift I have ever made….so far! LOL
One of our many Assistant Scoutmasters(ASM) will be not be able to volunteer as much as he used to. Life is always changing so we have to go with the flow sometimes. He has been with the troop for about 7 years. He has been my buddy for all this time.
When he started the Troop needed a Quartermaster, a Quartermaster is an adult leader that makes sure the youth Quartermaster gets all his duties done and makes sure the troop is ready for any outing that comes up. They price out any equipment the troop needs and purchase when the adult committee approves the new items that are needed. He also makes sure the patrol boxes are fully stocked, towels have been washed and there is enough propane for each outing.
He has been a huge asset to the troop, going on just about all the outings during this time. An added plus is that he has a truck and has been pulling our troop trailer whenever we needed it, whether it is down the street or to summer camp that could be up to 4 hours away. I will miss him terribly.
Anyway, I started looking for a memento to give him so he could remember all the great times we have had. Since he was the Quartermaster, I wanted to get him something rugged, for an outdoorsy guy.
I wanted to make a personalized gift from him. I came to the conclusion that a nice ax would be a good fit. I searched and found many axes but I was looking for one that had a really nice handle because I was thing to burn some words on the handle to make it more special. I ultimately decided on a Camaqui 15″ hatchet, the norther style. The northern style had a much nicer grain of a wood handle.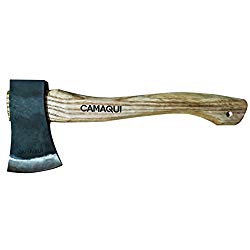 I ordered the ax from Amazon and received the ax 2 days after I ordered it, I don't have prime and the shipping was free, so I was quite surprised it came as fast as it did.
I researched some ax handle engraving and was not impressed by any of the items I looked at. So, what I did was take a picture of the ax and pulled the picture up in Gimp2. This is a free software that is just like photo shop. I have been using it for the past year in a very limited capacity. Creating a line in the same shape as the ax handle was a bit of a challenge, so I went on YouTube and found a tutorial on how to a make a curved line in Gimp 2. The tutorial was quite entertaining!
Once I got the text in a curved line and the font that I wanted, I scaled the picture to the actual size.

Then I printed it out, it was the same size as the ax, so I cut out the words and laid them on the ax handle. I had to do this a few times to get the font just the right size.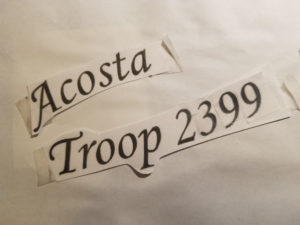 Next, I had some carbon paper and put it between the ax handle and the taped on letters. A regular pencil worked great for tracing the letters, just make sure your carbon paper is underneath the letter you are tracing.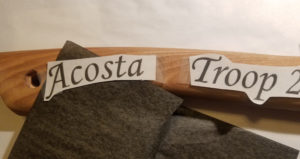 After I traced all the letters on the handle take the paper off and make sure the letters are where you want them. If they are not in the right spot you will want to fix it now.
I got a wood burner years ago and have created some pretty cool stuff. I will have to make another post on that later. Anyhow, I have the Walnut Hollow Versa Tool, it is less that $20.00. It did what I needed it to do, but on larger projects I would like to have one that gets a little hotter. Sometimes the time it took for the tool to stay hot slowed me down a bit. The actual tool gets kinda hot while holding it. I used a small fan to blow the heat away, this helped a lot. If you plan on doing a lot of work with a wood burner, there are lot of different tools to choose from.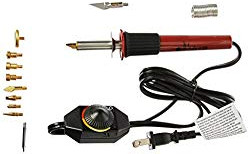 I have not done a burning for a little while so I practiced on a 2X4 for a bit to make sure I have the right pressure on the tool to burn the way I want it to. Then off I went, since the letters are on the small side, it only took a light touch to get the letters the way I wanted them. To get the letters just right I turned the ax handle in all different ways instead of turning the tool.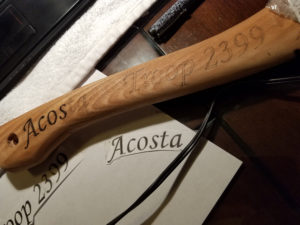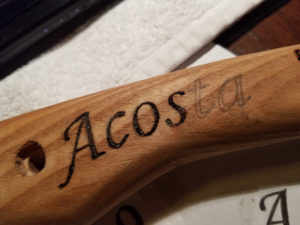 It took me about 2 hours to do the burning of the handle. Then a little touch up here and there and I was done. It turned out beautiful. I am so glad I decided on the Camaqui ax. I even wrote an email to Camaqui telling them how happy I was with their product. This has been the best personalized gift I have ever made.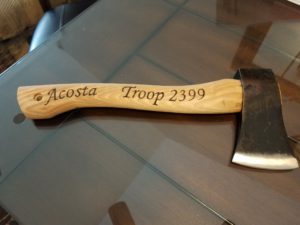 I am so excited to give my friend his gift, I hope he loves it as much as I do!
This is a project anyone can do, just take your time. I would recommend to keep this tool out of the reach of children. Even when the kids are around, I don't think I would use the burner because the cord can be pulled and the burner could end up on the floor or in the hands of a child, so, I don't recommend doing this activity while children are around.
I hope you have enjoyed my post, I had a great time creating this awesome gift.
Let me know what you think or if you have ever done anything like this? I would love to know what kind of unique gift you have made.
Yours in Scouting,
Mrs. Scoutmaster, Irene
PS. Check out my story here!