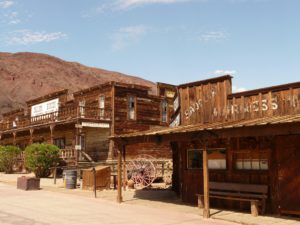 For the month for September the troop went to Calico Ghost Town near Barstow California.
The boys the troop had planned to go to Calico during their June calendar planning meeting. As they plan where they want to go, the adults start making reservations. It was nice that they selected September, because all the schools in the area are already back in session. We planned on doing all the activities the town had to offer while we where there.
We headed out on Friday night right a rush hour, we should have planned a little better and left a little later. It took us over 2 and a half hours to get there when usually it should have only taken an hour and a half. Once we got there, it was really dark, there was a new moon out, so we had to scramble for our flashlights and the headlights to our vehicles to set up camp.
The nice thing about Calico campground is that we are camping right next to our vehicles. This makes it nice for unpacking and getting things set up. The weather could not have been nicer on Friday night, once we got to bed it was still quite warm, warmer than we thought it would be. I myself had a tough night sleeping on top of my sleeping bag. It ended up being too warm to sleep.
Saturday we woke up to a great clear morning, the scouts where getting up and starting their breakfasts. We ended up having 3 patrols cooking for the weekend. The adults started a dutch oven with a casserole of hash browns, eggs, onions, cheese and sausages. I think we ended up having the best breakfast.
When I was done with breakfast I walked up into town from the campground and paid for our campsite, we had put a deposit down to hold our sites, I only had to pay the remainder for our stay. It ended up being only $5.00 a night per person, I think this is the cheapest we have paid for any site that we have ever stayed at. Then I walked over to the glass house, this is where they sell the tickets for the town activities. They have panning for silver, short train ride explaining cool details of how the miners lived back in the day, an actual self guided mine tour and a fun tour through a tilted house. I think the tilted house was the scouts favorite, they even got to see 3 white albino bats!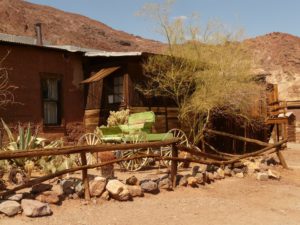 As I got done with all the payments that where made, the scouts and parents met me at the beginning of town by the parking lot. I handed out all the tickets for the daily activities, explained that they are representing scouts and I expected that they where to be on their best behavior while in town. The scouts and parents all where bright blue shirts so we can easily see each other, so if someone does not act like a scout, I know I will hear it from the folks in town. I am thankful that all we had where great comments on how the scouts acted during the day.
Saturday evening we signed up to go on a ghost tour through the mine a night. The mines are locked up at dusk, so this was a special tour to walk through the mine at night. Our guide told us about a lot more about the mining activities and the somewhat scary things that have happened in the mine. He also told us to take lots of pictures, I guess ghost like to photo bomb in the mines. LOL
The last time we stayed at Calico we all took the main street ghost tour. I think I enjoyed this one a little more, the guide explained all about the different buildings, the fires and the rebuilding of the town. She also told us which buildings had the most supernatural sighting or events that have happened on the main street of the town.
The scouts had a great time, the youngest we had with us was 11 and it was not to scary for him. The tours are kid friendly from 11 on up in age.
Sunday morning we all got up and starting to pack up camp. As always, the adults are waiting on the scouts to all their stuff packed up. Once we get all the cars loaded we do a trash sweep of the whole campsite. Any trash that we find, usually previous guest at the campground, we get in the trash and leave the site better than when we arrived. Then off to the rest room to wash up.
When they get back and ready to go, everyone, including the adults get in a big circle. We go around and tell our favorite part of the weekend or what we where thankful for at the outing. We also disuse any issues we had during the outing and talk about what is expected in the future. This time we had no issues except it got really windy on Saturday and some scouts tents where not staked to the ground. As you can imagine, it was a good thing some adults where at camp and caught the tents before they rolled away. It's the little things that keep us on our toes! : )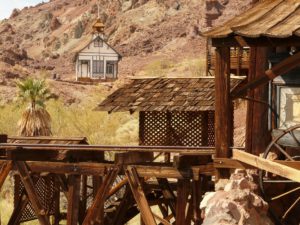 Then we where on our way home. It only took us an hour and a half to get home. That was such a better drive. We got back into town at about 10:30 in the morning. We do our best to get home as early as possible, the scouts and adults all have things to do or just to have some family time on Sunday afternoon.
I hope you enjoyed this post, please let me know what you think of Calico or another ghost town that you have visited. I would love to hear about it!
Yours In Scouting,
Mrs. Scoutmaster, Irene