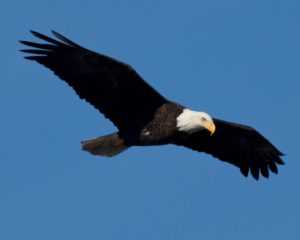 I have the honor of selecting a gift from our Troop for two well deserving Eagle Scouts.  Their Eagle Court of Honor will be here shortly. There are many items we have considered as a troop gift to the new Eagle Scouts.  The troop used to purchase the cake for their Eagel Court of Honor, but the adults of the troop wanted to give the Eagle Scouts something they could take with them on their journey through life.
We started looking around and found many items to ponder.  Here a just a few that we looked at.
"Aerie" – Hand Painted Alabaster Eagle Sculpture
Made of alabaster Stone and Resin Size: 3″ L x 6 1/2″" H x 3 1/2″ D
Weight: Approx 14 Oz
This is an elegant gift any Eagel Scout would cherish, display  this beautiful eagle on a book shelf or desk.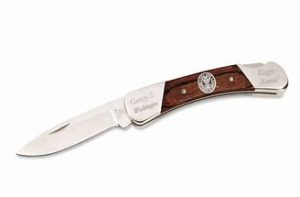 With a wood grain handle with stainless steel bolsters. The bolsters are customizable to include Scout's name, troop number, date, or other info you prefer. Comes with a leather sheath. It is made in the USA and has a Forever Warranty.
Blade Length: 3" Overall Length: 4 1/4″
Weight: 4.6 oz. (130.4 g)
There are 5 knives that are officially licensed by the BSA.  The 500 duke can be engraved for no extra charge with your scouts name and troop numbers
How to order an engraved Buck knifes for an Eagle Scout?  On the  Buck Knives official page, at the very bottom of the page on the left side, "Boy Scouts of America" is listed.  Just click on this and it will take you to the page that has the officially licensed knives for BSA.
With standard delivery is usually takes only 7 days to get this in the mail.
The troop adults really liked this option.
Size: 1.75″ High, 3″ Diameter
Free engraving is available
This is a beautiful antiqued brass compass. It would a beautiful keepsake for all the wonderful memories from scouts!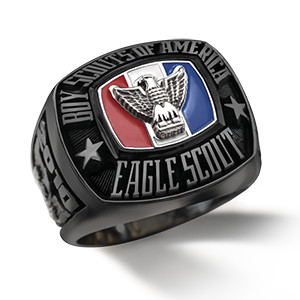 The scout ring is an awesome gift, but we think that this is something that a parent would give their scout.  It is a little too expensive for the troop to give to every Eagel Scout.
Price: USD $ 199.95 for the White Lustrium finish other finishes available.
Can be personalized with your name and the year of your achievement on the ring sides. Made in the USA. This will usually ship in 4-6 weeks
Eagle Coin Knife $39.99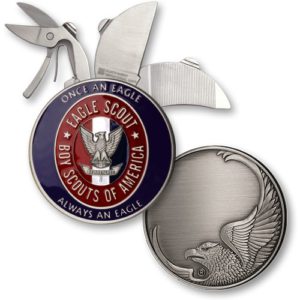 Enamel and antique-finished brass coin knife. It has space for personalized engraving. Folded compactly inside are three stainless steel blades (knife, file and scissors). It measures 1 7/8″ long.  This would be a great gift any Eagle Scout could carry with him to remind him of the responsibility he shares with other Eagle scouts. This knife can be found at any scout shop.
Some other scout gifts with the Eagle Scout emblem from the scout shop.
Our troop adults have decided to purchase the Buck Knives – 500 Duke Knife $50.00 with free engraving.  We think that any Eagle Scout would be proud to carry this knife or display it for all to see.  We  can also engrave it with his name and troop number.
Please let me know which one you would choose!
Yours in scouting,
Mrs. Scoutmaster, Irene
PS. Check out my story here!
Some of the items on this page are offered through an affiliate program.  If you wish to purchase items through my site, I receive a small compensation from sales of certain items. This helps me get to as many outings and functions for my troop as possible.
Prices are exactly the same for you if your purchase is through an affiliate link or a non-affiliate link. You will not pay more by clicking through to the link.